Know-how
Our world is enchanting, full of dreams and a retro touch.
It is from the pink city that two collections per year are imagined.
Guided by her instinct and inspired by her daughter or the (numerous!) suggestions of her friends, Anne imagines season after season accessories for women and children where leather, liberty, sequins and gold touches are combined. Her very personal universe mixes softness, poetry and reverie, in a style that is always chic and refined!
The choice of raw materials
Beautiful materials and natural fibres are always preferred. Just as we make it a point of honour to offer quality products made with respect for people and know-how, we also make a point of using raw materials and dyeing processes that are respectful of both the skin and the environment.
Our fabrics are of course OEKO-TEX certified (terry loop, Liberty fabric, nappy cloth...), which means that they are absolutely safe for health, including for babies and children!
You will also notice that our terry towelling has an intitirable loop (if you try to pull a thread... it won't unravel). In addition, our leathers (which come from France and Italy), benefit from the European REACH label on the use of chemical substances.
All these choices are a real guarantee of authenticity for our products.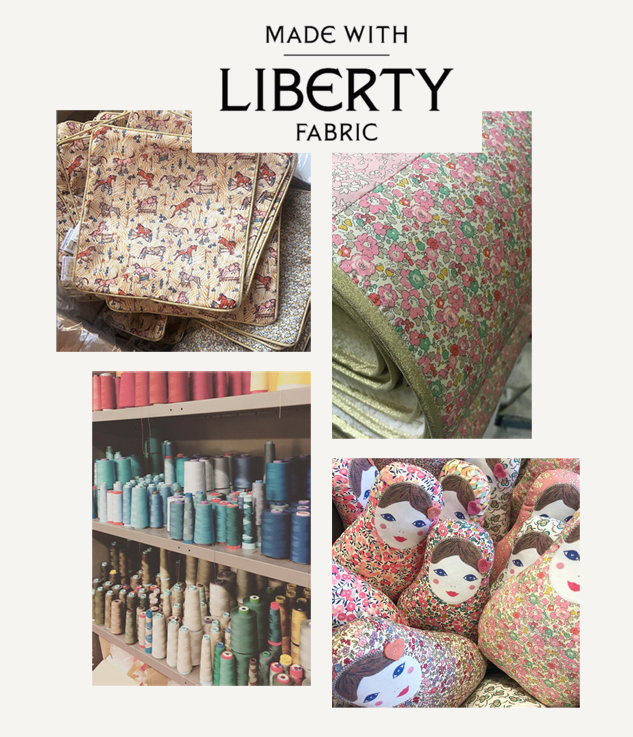 Liberty fabric has been in existence since 1884. The London-based brand develops fine, delicate fabrics with characteristic floral patterns. Every year we select our prints from a large collection of refined designs. The quality we use is the best known and finest: tana lawn. This is a 100% cotton batiste, a fine, tightly woven cotton that has the feel of silk. It is soft, light, perfect for babies! The Liberty is printed in accordance with Oekotex standards. The quality of its manufacture allows us to have a material whose colour and measurements will not move when washed. We recommend washing the Liberty at 40°, as higher temperatures and the dryer will damage the surface of the fabric more quickly.
Our Liberty fabric is entrusted to a workshop in the north of France, which has been recognised for its expertise for several decades. These craftsmen who love fine work are the best to look after our precious collections and offer us products with a truly meticulous finish.
We are very grateful that this company agreed to make our first collections: the quantities to be made were so small when we started!... From now on Vincent, the boss, does not regret having bet on Barnabé aime le café because our orders are constantly increasing!
And then we put a bit of mess in this big workshop rather used to making traditional household linen... Our supplier doesn't stop being surprised when we ask him to make lollipop ties or clothes for Petit Colin dolls !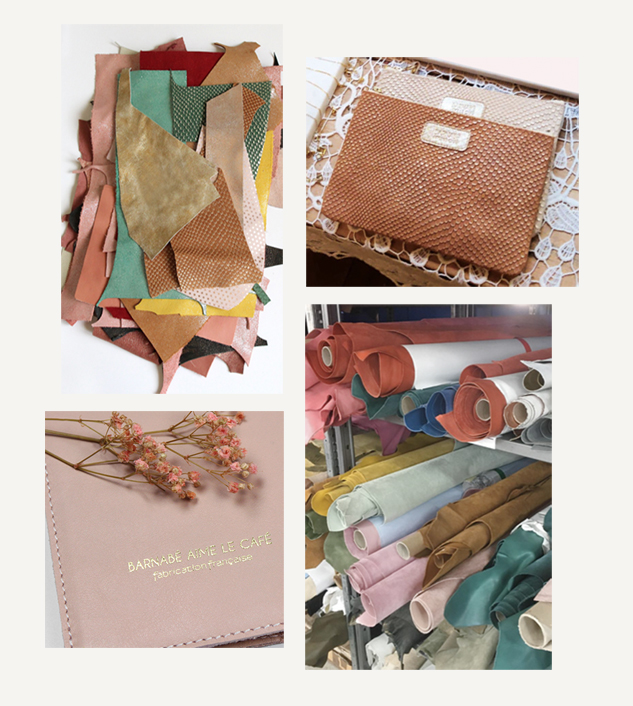 It is very close to our offices in Toulouse, in the Tarn, the cradle of French leather goods, that we have found this very precious supplier.
The company has the label of excellence "Entreprise du Patrimoine Vivant" (Living Heritage Company). The label "Entreprise du Patrimoine Vivant" (EPV) is a state recognition mark set up to distinguish French companies with excellent craft and industrial know-how. Very few leather goods workshops obtain this state label.
We are a loyal brand!

These historic manufacturers followed us from the very beginning. They are still with us 13 years later. They are small workshops where the human dimension takes on its full meaning. And for all these years we have known Vincent, Roger, Leichmi, Audrey, Michelle, Adèle, Marie-Pierre, Ingrid, Louise, and the others at our fingertips... Their enthusiasm and their commitment to work are the most beautiful of our rewards!